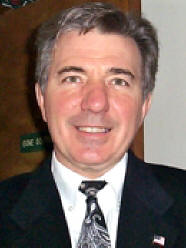 Randall K. Wright retired from the electric sign industry after 38 years and retired from the fire service as a life member with 39 years of service. Currently providing consulting services and educational seminars relating to the electric sign industry.

Fire Investigation
Randy is currently an electric and sign system specialist doing consulting work as RKWCONSULTING for electric signs, neon signs and sign systems to assist companies in the prevention of neon sign fires. Neon and electric sign fire investigation as it relates to fire cause and origin. Provide expert testimony, reports, and forensic demonstrations on neon and electric signs as a possible ignition source. Seminars "Litigation and How to Prevent it"; "Working with Your Electrical Inspector"; "How to Become a Listed Company".
Installation Education, Safety and Seminars:
Randy provides educational seminars on "Electric and Neon Sign Standards"; Personal Safety for the Sign Service Electrician and Sign Installer" and "Neon Sign Fire Prevention" to electric sign company personnel, fire investigators, code and zoning personnel, and electrical inspectors. Retained as a consultant to the United States Sign Council to assist members with electrical, Code and Standards issues.
Codes and Standard Seminars:

Seminars "Rules and Regulations" are available based on the National Electric Code, focusing on Article 600 and related topics. Being a Code Panel member since the 1987 ROC cycle Randy has been involved in the complete rewrite of Article 600 and related changes. Being instrumental in adding the "Twisted Connection", restricting the use of unsafe plastics, and assisting in the development of Secondary-Circuit Ground-Fault protection for neon transformers and electronic power supplies.
Seminars based on UL Standards which relate to the electric sign industry. Randy has served on the industry advisory panels, and currently as an STP Member (Standards Technical Panels) to create, update and modify content for these Standards. Standards include UL 48 Electric Signs, UL 814 GTO wire, UL 2161 Neon Transformers and Power Supplies, UL 879 Electric Sign Components
Trade Publications and Articles:

Randy has written articles for Sign Builder Illustrated, Fire Litigation Perspectives, Code Corner, PA Association of Arson Investigators, I.A.E.I. News, USSC newsletters as well as numerous PowerPoint presentations and provided technical content for the Neon Installation Guide and Neon Lighting.
Randall K. Wright
698 Walnut Street, Montoursville, PA 17754
Phone/Fax 570-368-1091
Cell 570-772-NEON (6366)